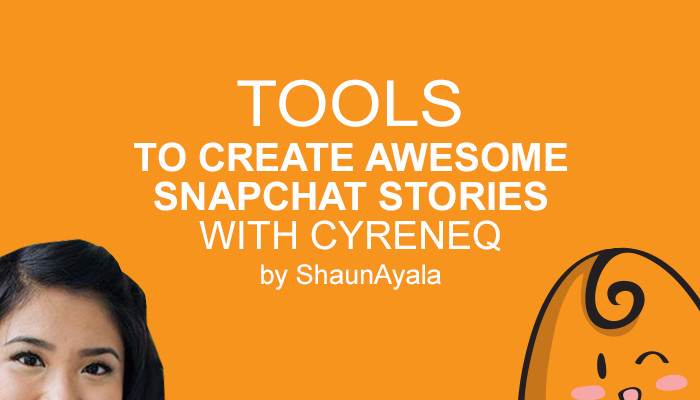 Feeling limited to the arm length away story telling? Would you like to create stories like many of the Snapchat influencers on the platform? Snapchat celebrity CyreneQ gave us a behind-the-scenes look to one of her popular Micro Series titled The Ele Machine. [Video at the end of this article] What was amazing about this behind-the-scenes look was that we got to see CyreneQ in action on the other side of her phone as she showed us the tools she used to create her incredible stories. Let's list and talk about what each tool is and why it may be useful when creating your next Snap story.
Tripod
A tripod is a 3 legged frame that provided stability for your a camera. This can be useful for framing up the perfect shot. Stability in your Snapchat video or images can open up many creative opportunities. CyreneQ uses it to capture more of herself in a frame when an arm length shot is not enough.
Cell Phone Tripod Adapter Mount
This is used to mount your camera phone to a tripod. It's a must needed tool if you want to use your cell phone on a tripod, these adapters are not standard and can be found on amazon.com.
Bluetooth Selfie Stick
This tool is magical, influencers always get the question, "How are you recording these stories without physically pressing the button to record your snap story?", CyreneQ mentions a Bluetooth Selfie stick, you will notice she didn't mention a bluetooth remote, through research of many remotes, we found that a bluetooth selfie stick remote seems to work best with Snapchats picture and video recording. Not sure what the technology difference here is, but out of the few I've tried, this one on BestBuy.com seems to work best for snapping both images and video.
PRO-TIP: Based on the story Idea, I always have someone with me to use and press the bluetooth selfie remote so I don't always have that in my hand and in specific shots that has a full body view of me.

Here are a few other tools not mentioned but definitely worth considering.
USB Charger/Cord
Always add this to your list of tools, many people forget to carry their charging cord or USB cable, I always recommend having a specific one especially for travel.
Battery Backup
Snapping all day can take up a tremendous amount of battery life. If you're on the go and you find yourself no where near an outlet to charge up, this tool will be a life saver! (Get it? LIfe? Battery Life? lol)
Storyboard
I love to storyboard everything! It's a great way to plan and execute your snap stories. I prep the story and I carry the storyboard with me so I do not miss a thing.
A Friend
If I can and if needed based on the story, ill ask someone to accompany me on my trip to create a story, this is helpful because if you need someone to press the video record button or snap that picture, you can do it hands free and catch the frames you need to for the the story you want.
Here is CyreneQ behind the scenes to her popular Micro Series titled The Ele Machine.

Final Thoughts,
Tools do not define how creative your stories can become, but they surely are helpful! Your creativity determines what tools you'll use and how you'll use them to create your masterpiece. So go explore new ways to use these tools in your snap story. They will give you a whole new perspective since now you can see beyond your arm's length! Have fun!
Now go get creative!
---